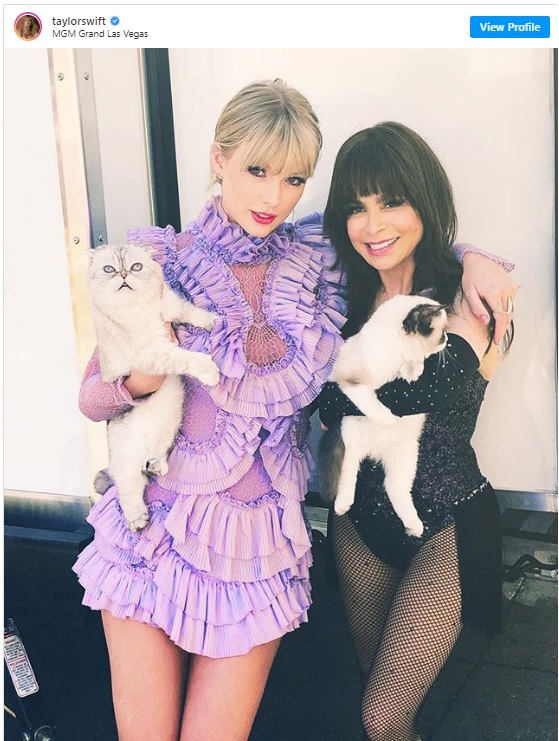 Ellen and Portia, and their super cute dogs.
Ellen and Portia are longtime supporters of animals rights. Regularly featuring pet segments on The Ellen DeGeneres Show and bringing awareness to the public about rescue animals, it's no surprise that this celebrity couple are parents to an adorable brood of seven animals—all rescues! Ellen and Portia currently have four dogs — Wolf, Augie, Kid & Mr. Wallace Browning; Mr. Wallace Browning is their most recent rescue from Wagmor Pets in Los Angeles, CA. This handsome boy is purebred standard poodle who Ellen hopes will bring awareness to the fact that you can rescue a purebred as well. The pair also have three cats — Charlie, George, and Chairman. DeGeneres credits her love of animals to her childhood dreams of becoming a veterinarian and has said "I cannot imagine not going home to animals. They are the closest thing to God. They don't harbor resentment. Somebody put it really well: If you hurt a dog, the dog may, years later, remember you hurt him if he sees you. But he's not going to spend all those years planning how to hurt you the next time he sees you." Amen!
Lady Gaga, Miss Asia
We are all gaga over Gaga — the mega talented singer, songwriter, actress and fashion extraordinaire! So it's no surprise that Miss Asia, the adorable French Bulldog born and adopted by the singer in 2014, is a star in her own right. With over 250K followers on Instagram, this ebony goddess has donned the cover of Harper's BAZAAR with her famous mom, starred in the 2015 campaign "Coach Pups", made an appearance during mom's Super Bowl performance, among many other accolades. Asked about her pup's career, Gaga said "I am so proud of Miss Asia! She's a natural in front of the camera. I really love getting to watch my best friend be a star." This little scene stealer knows how to rock the spotlight but she is also comfortable sharing it with her other siblings, French Bulldogs Koji (adopted in 2015) and Gustavo (adopted in 2016).
Ariana Grande, Toulouse
This Beagel-Chihuahua mix is the lucky dog of mega singing sensation Ariana Grande. Adopted from a shelter in September 2013, this little man has been by the singer's side ever since—even gracing the cover of Vogue with him mom in 2019! The singer even joked on Instagram "thanks for allowing me to be in the background of toulouse's first Vogue cover @voguemagazine". The pictures were shot by famed photographer Annie Leibovitz and is set on the beach in Grande's home town of Boca Raton, FL. Toulouse also appeared in the "Thank U, Next" music video! While Toulouse is Grande's most famous pup, he is also brother to 10 other amazing rescue pups and a pig named Piggy Smallz! One of her dogs, Myron, was Mac Miller's dog and Grande took him in after Miller's death. Piggy Smallz was gifted to the singer by ex-boyfriend, comedian Pete Davidson.
Kaley Cuoco, Blueberry
Most famous for playing Penny on the 'Big Bang Theory', this star is also known for her love of animals. Pictured here with the newest addition to her family, Blueberry; Cuoco is also mom to two pitbulls—Norman & Shirley, a little white terrier named Ruby, and a rescued dwarf-horse, Shmooshy! Fun fact, Shmooshy's name was inspired by the horse's nose—which Kaley believes looks "all shmooshed." Cuoco loves to ride horses as well and is also an accomplished equestrian who rides 5 days a week. This is one talented mama!
Karl Lagerfeld, Choupette
Perhaps the most famous pet on social media, Choupette Lagerfeld, is a gorgeous feline replete with layers of snow white fur and delicately piercing blue eyes. Choupette, a Red Point Birman, leads THE life that every pet (and human!) would be jealous of. When she's not jet setting around the world earning millions for her modeling work, you can find her at home with her two personal nanny's, surfing on her iPad and posting on Instagram to her more than 267,000 followers! Choupette also has a fast growing following on Twitter with more than 50,000+ followers. Lagerfeld, admitting an article published by Numéro, "My love for little fluff balls came quite late. I've had dogs in my life, but it was when I lived in the countryside. In Paris, as in all big cities, it's a bit more complicated. As you can imagine, I could no longer take the risk of walking a dog in the street, there'd be a riot." Choupette became his answer and his love. Sadly Karl Lagerfeld passed in 2019, but Choupette Lagerfeld is still well and in the care of one of her beloved nanny's in Paris—and her social media and press in managed by her agent, also in Paris.
Ke$ha, Mr. Peep$
In 2019, this Billboard award winning favorite celebrity pet, Mr. Peep$, Ke$ha's adorable kitty even beat out her friends Olivia and Meredith, Taylor Swift's feisty felines. Mr. Peep$ leads the good life now, but life was not always sunshine and rainbows. Found outside of a strip club in Russian, Ke$ha was handed the kitten from a random Russian man through a car window. Since that day in 2012, Mr. Peep$ has graced the music world with his presence in HAIM music video for 'My Song 5', which features mom Ke$ha—and also featured on several episodes's of mom's show 'Kesha: My Crazy Beautiful Life'.
Kevin Hart, Roxy & Riggs
Comedian and Actor Kevin Hart's dogs Roxy & Riggs are gorgeous Doberman Pinscher & Mini Doberman's, respectively. He credits his love for dogs to his wife Eniko Parrish, before whom he would have never considered getting a dog. Now the pooches in his life rule the house and bring everyone lots of laughs like their dad. Riggs is names for Mel Gibson's character in Lethal Weapon, and is also the smaller and oldest of the two dogs. While they weren't allowed at the couple's 2016 wedding, the dogs were still included in the photos that captured the memorable day.
Kylie Jenner, Norman & Bambi
It is said that as a child, Kylie Jenner wanted Italian greyhounds, so in 2014 she adopted Norman (Normi) quickly followed by Bambi in 2015, they are brother and sister. Since that time, the beauty mogul's family of fur babies continues to grow with Sophia also an Italian greyhound adopted in 2015, Odie—a small floppy eared rescue in 2016, Ernie the Dashcaund also adopted in 2016, Penny the little puppy came soon there after, and finally a few months later Rosie & Harlie—Bambi & Normi's puppies (yes, they're siblings!) arrived unexpectedly. So unexpectedly so, that mom Jenner had to miss the American Music Awards! In addition to her dog pack, Jenner also has the cutest bunny Bruce, adopted in 2015. The newest addition to the Jenner & Scott clan is the adorable Wesley, a Chihuahua/Dachshund mix. Clearly this Kylie Cosmetics mega mogul loves her animals and we look forward to watching their family grow!
Taylor Swift, Olivia Benson & Meredith Grey
Rivaling their mama's fame, these felines are the lucky kitties of music sensation, Taylor Swift. Named for two powerhouse television characters, Olivia Benson from TV's Law & Order SVU, and Meredith Grey from Grey's Anatomy—Swift mentions in Rolling Stone magazine that these ladies were named for "strong, complex, independent women.", just like their mama!
Olivia and Meredith are both stunningly beautiful Scottish-folds (Olivia is off white) and they even made their video debut in 2019 with mom Taylor's "ME!" video featuring vocals from Panic! At the Disco's Brendon Urie. On that very shoot, Taylor met a rag doll kitten, whom she loved so much—that she adopted him. Welcome Benjamin ("Button"), who makes his debut as THE kitten Brendon gives to Taylor as a gift in the "ME!" video—it was obviously love at first sight, the stars were aligned for these two! Now there are three, plus one amazing pop star mama! Purrrrfect.
Pamela Anderson and one of her many rescue dogs.
This voluptuous Baywatch stunner is long known as a huge supporter of animal, human and environmental rights. The gorgeous vegan and animal rights activist has also starred in many campaigns for People of the Ethical Treatment of Animals and continues to be speak on behalf of those with no voices. Though personally she keeps a low profile on social media, Pam can often been spotted as an activist and supporter on and offline through The Pamela Anderson Foundation, founded in 1996.
Nick Jonas, Gino
Back in November of 2019, wife Priyanka Chopra, surprised Jonas with a German Shepard pulpy as an anniversary gift. This handsome little puppy not only stole the heart of Nick, but also of the whole world—as can be seen by Gino's HUGE following of more than 335K on Instagram! Gino Jonas lives a charmed life with his daddy Nick and mom Priyanka. While on Ellen in January, Joans admitted that Gino is now double the size and tearing up the house—but he's too cute to get mad at, and we would have to agree. While Gino is loved to pieces by his family and many adoring fans, he does share the spotlight with his sister Diana. Double the cuteness!
Priyanka Chopra Jonas, Diana
Diana, Gino Jonas's sister, was adopted in 2016 before Chapra married Jonas. The story goes, similar to that of Taylor Swift and Benji, Priyanka was doing a photo shoot with puppies—and you guessed it—she decided to adopt one and take her home. Diana, who at the time was not Priyanka's only dog, stole the heart of this Bollywood beauty who had been planning to get a puppy in 2018. At the time, her dog in India, a Cocker Spaniel named Brando, was too old to travel and Priyanka wanted to bring another furry friend into her life. Unfortunately, Brando did pass away but Diana now has a new brother to love (or perhaps to be jealous of!); her brother Gino has more than double the amount of followers on the IG. While perhaps not as popular on Instagram as her brother, Diana's 115K+ followers, is surely nothing to scoff at!
Justin Bieber and Haley Baldwin Bieber, Oscar
Oscar Bieber might be one of the most adorable celebrity dogs we've seen. This little fluff ball is the first pet for the pair who officially married in 2018. Following their Thanksgiving nuptials, pop legend Justin Bieber and his model wife, Hailey Baldwin, expanded their family just in time for Christmas 2018. The first picture of Bieber & Oscar, where Bieber introduced the world to the couple's "dogson", has garnered more than 6.7 million views to date! This is one famous dog! Oscar's breed has never been confirmed but it is believed his is a Maltese Yorkie mix. Whatever this little man his—he's adorable and one lucky puppy to be the "dogson" of this young, hot couple.
Rachael Ray, Isaboo
This celebrity chef, talkshow host, entrepreneur does it all—and the fabulous Rachael Ray not only does she entertain us with all of her many talents, but Ray is also a huge advocate for pit bulls, namely her 15 year old pit bull Isaboo. Isaboo was rescued in 2005 by Rachael and it has been a love affair ever since, it even inspired her line of dog food. Ray designed the pet food with Isaboo's diet in mind, which resulted in the wildly successful pet food line Nutrish by Rachael Ray. The best part of the Nutrish products (apart from being Isaboo approved!) is that a portion of the sales from every product is donated to the continued support of U.S. shelter animals through the Rachael Ray Foundation. As of 2019, the organization had donated more than $35.5 million to rescue and animal support organizations around the country.
The Obama's, Bo & Sunny
Way back when in 2008 when President Obama ran for President, he promised his daughters Sasha and Melia that no matter the outcome of the election, he would buy them a puppy. We all know how the story ended—the beloved First family packed their bags and landed at 1600 Pennsylvania in 2009, as did Bo Obama, a handsome Portuguese Water Dog. Bo brought so much joy to everyone, that after winning his second term in 2012—the Obama's celebrated by adding Sunny to the family in 2013. Officially while our 44th President was in office, Bo held the title of First dog of the United States. These two were so popular, they needed their own weekly agendas while in office—overseen of course by the First Lady Michelle.
Paris Hilton and her entourage.
Paris Hilton, has always been a lover of animals, as witnessed toting Tinkerbell (RIP) with former BFF Nicole Richie on "The Simple Life" way back when in 2003. Since that time, Paris continues to add to her family with adorable pint sized pals than we can keep track of (around 8 that we know of). And just like their mother, they need a palace befitting of royalty. Enter the Doggy Mansion, Hilton's answer to the doghouse. With no surprise, this 300 square foot, two-story Spanish style villa, came with a price tag of $325,000 in 2009! The interior was designed by celebrity interior designer Faye Resnick and boasts a chandelier—for proper selfie lighting of course. That's so hot!
Chrissy Teigen, Petey
Chrissy Teigen is already gorgeous, successful, funny, married to Jon Legend, and has two stunning children—what could she possibly need? A puppy of course! And when you hear how Teigen found her dog, it will make your heart melt even more. Friend Ellen DeGeneres posted about rescued 10 pups that needed homes, one of these lucky dog's was Petey—and the rest is his history. Petey is a handsome standard poodle who steals hearts with every glance. Teigen introduced him to the world via a short video on Twitter on January 5th, 2020, declaring "this is petey! another little heart in this house to love." And now we love her and the whole family even more!
Oprah, And ALL the Dogs!
Oprah LOVES her dogs and has often made them a part of her life publicly. Over the years, Winfrey has had over 20 dogs, some of which we fondly remember from her legendary talk show, including Sophie & Solomon. Currently, the mogul has Sadie the Cocker Spaniel, and Springer Spaniel's Sunny & Lauren. So how did these outs come into Oprah's life? So, as the story seems to go with many celebrities, Oprah was doing a cover shoot for her magazine in 2009 with puppies from PAWS Chicago rescue, and Sadie stole her heart. The media mogul is quoted as saying in an article posted on oprah.com in 2019, "My heart spoke to Miss Sadie, the runt of the litter. I love making the underdog a winner." Then in 2010, as a birthday present to herself, Oprah adopted 14 week old Springer Spaniel puppies Sunny & Lauren, also from the PAWS Chicago rescue. Miss O certainly loves her dogs, and even noted in an episode of Super Soul Sundays in 2014 that "Over the years I have felt the truest, purest love—the love of God, really, I imagine that's what God's love feels like—is the love that comes from your dog."

- GivingFoward Charity: General Fund