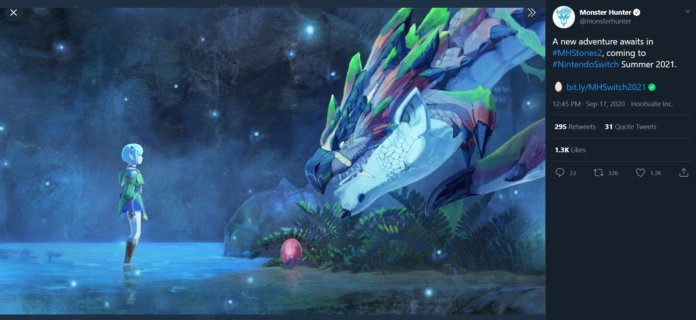 Nintendo hosted a new Nintendo Direct Mini: Partner Showcase this morning. Two new Monster Hunter games were among the trailers shown. Monster Hunter Rise is scheduled to be released for Nintendo Switch on March 26, 2021, and Monster Hunter Stories 2: Wings of Ruin is set to release during Summer 2021. Nintendo stated that these release dates and other information are subject to change due to COVID-19. A separate Monster Hunter Direct aired shortly after with more information on these games.
Monster Hunter Rise introduces the Palamute, a rideable Canyne buddy. Riding one does not decrease your stamina, so you can keep running at high speeds. They can run up some cliffs, and will help you in battle. The Felyne Palico returns from previous games. You can take two buddies with you, and can mix and match which ones you want. In multiplayer, only one buddy is allowed. Pre-orders will include costumes for both the Palamute and the Palico, as well as a Novice Talisman to help you through the early stages of the game.
Another new addition is the Wirebug. The player carries several of these, which give them new ways to explore the world. The game's title, "Rise", refers to hunters running up cliffs and utilizing the vertical nature of the environment. Wirebugs help the player reach new heights, and can also be combined with attacks. The locations in this game are designed to make full use of Wirebugs.
Nintendo also showed three amiibo that will be released alongside Monster Hunter Rise. Standalone amiibo will be available exclusively at GameStop in the United States and EB Games in Canada.
In Monster Hunter Stories 2: Wings of Ruin, you'll become a monster rider investigating the mass disappearance of Rathalos. More about this game will be released in the future. There are compatibility features that connect Monster Hunter Stories 2 and Monster Hunter Rise, although no specifics about these features were given.
Watch the Nintendo Direct Mini and Monster Hunter Direct here:
- GivingFoward Charity: General Fund