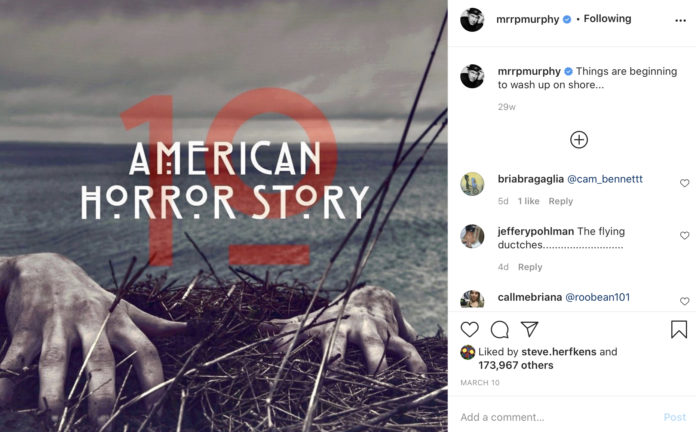 The famed screenwriter and series creator, Ryan Murphy, has been dropping hints about the upcoming tenth season to his hit television show, 'American Horror Story'; however, a recent interview with a staple actress from the show has sparked recent interest.
Most people who are familiar with American Horror Story know who Sarah Paulson is, however what they may not know is that in an interview with Harper's BAZAAR, the actress gave fans insight into possible details about the unreleased tenth season of the hit series. Throughout the past years, each season of the show has held a distinct theme, and prior to the reveal of the series title, creator Ryan Murphy has historically placed "clues" all over his personal Instagram account to tease fans (see the photo above). In correlation to this year's clues, viewers are most certain the new season will revolve around mermaids or sirens, as congruent with the photo of the teeth, Murphy has also posted different "nautical" themed images.
Ryan Murphy's Instagram Hints
While the hints placed on Murphy's personal account are altogether interesting, nothing compares to the recent information that Sarah Paulson slipped in her recent interview. With some backstory, despite the coastal/nautical cryptic images, many fans have speculated that aliens will be the theme of the upcoming season, as they made an unresolved appearance in the second season of the show, Asylum, and a poster in the ninth season of the show, 1984, alluded to reptilian creatures. This is where Paulson's interview becomes relevant, as she was pressed about the alien fan theory, to which she responded, "I plead the fifth. I just think it's possible….I'm going to get in so much trouble!"
Official Instagram Account of Sarah Paulson
So it is not an outright no, but there is no official clarity on what the season will be centered around. The only good news is that the show is set to start filming this month, leaving fans hoping for a late October release (fingers crossed on Halloween). Sarah Paulson is returning to the series after an absence in the ninth season when she was filming Murphy's other hit television show, Ratched. Fans can look forward to her return, as well as the return of Evan Peters, Billie Lourd and Kathy Bates; meanwhile, confirmed reports from Ryan Murphy himself reveal that Macaulay Culkin will be joining the cast! For now all we can do is speculate, but there is no doubt that the upcoming season will be special, considering its celebration of a decade of American Horror Story.
- GivingFoward Charity: General Fund